Can America be saved? Yes, say these Christians
by: Bobby Ross Jr. Editor-in-Chief
original article can be found on: https://christianchronicle.org
Domestic mission effort focuses on reaching lost souls in the U.S.
ROME, Ga. — Julie Trujillo has traveled to Honduras and Peru to help with medical missions.
She has flown to Panama to evangelize.
The 45-year-old Christian was looking for her next chance to share Jesus in Latin America when she learned about a door-knocking campaign in Rome — the small town in northwest Georgia, not the Italian capital.
"We don't need to go to Central and South America to see people who are lost," said Trujillo, a member of the Haverhill Road Church of Christ in West Palm Beach, Fla. "America is lost."
COVID-19 travel concerns prompted Latin American Missions — sponsored by the Forrest Park Church of Christ in Valdosta, Ga. — to cancel its international mission trips last summer and again this summer.
"It would just be very hard to take 30 to 50 people down there and do a successful campaign because of curfews and testing," said Austin Fowler, the organization's director.
Instead, Latin American Missions partnered with the House to House/Heart to Heart School of Evangelism — a ministry of the East Ridge Church of Christ in Chattanooga, Tenn. — to organize the recent American Mission Campaign.
PHOTO BY JON BAKER, VIA GEORGIA'S ROME OFFICE OF TOURISM The clocktower in Rome, Ga., site of the American Mission Campaign.
The Oak Hill Church of Christ in Rome is a 250-member congregation known for feeding the hungry and welcoming thousands of neighbors to watch Fourth of July fireworks from its property. That congregation hosted the campaigners.
"The world starts next door," said Matt Wallin, an Oak Hill deacon who serves as director of promotions for House to House/Heart to Heart, an evangelistic publication mailed to as many as 2.4 million U.S. households each month. "A knock could change everything."
About 150 Christians knocked on 2,475 doors in this town in the foothills of the Appalachian Mountains, about 65 miles northwest of Atlanta. The domestic missionaries talked to 1,097 residents, including 367 who asked for prayers, Bible study or food.
When not canvassing neighborhoods, the campaigners studied soul-winning techniques with Rob Whitacre, the evangelism school's director.
"We're going to prove that in the United States of America, you can still evangelize," Whitacre said. "There are still souls that need to be saved."
Given the ongoing pandemic, each participant received a mask and was urged to wear it in any scenario where it seemed appropriate.
Whitacre encouraged the door knockers not to make an issue of masks — or no masks — and to avoid political discussions, so that as the apostle Paul said in 1 Corinthians 9:22, they might "become all things to all people" and save some.
PHOTO PROVIDED BY CARY GILLIS Niki Villareal and Eloy Espinoza, who attend the Oak Hill Church of Christ in Rome, Ga., knock on a door during the American Mission Campaign.
Still fishers of men?
In what's sometimes called "post-Christian America," numbers tell part of the story.
The ranks of the religiously unaffiliated — or "nones" — have grown from about 5 percent in the early 1970s to at least 30 percent in 2020, according to Ryan Burge,an Eastern Illinois University professor who conducts religion research.
Among Churches of Christ, the estimated number of men, women and children in U.S. pews has dropped by 14 percent — or 231,247 souls — in the last two decades, according to a national directory compiled by 21st Century Christian.
Specifically, the 2003 directory put the fellowship's total number of adherents at 1,656,717. The latest count via the Nashville, Tenn.-based publisher's online fact sheet: 1,425,470.
"We've become keepers of the aquarium rather than fishers of men," Whitacre said.
Before launching the House to House/Heart to Heart School of Evangelism three years ago, Whitacre preached for the Willette Church of Christ in Red Boiling Springs, Tenn.
Attendance at the Middle Tennessee church hit 300 during Whitacre's 11 years with the congregation. He baptized about one-third of that number, he said, citing his family's passion for reaching lost souls.
"If you don't practice it, you shouldn't be preaching it," said Whitacre, a 1997 graduate of the Southwest School of Bible Studies in Austin, Texas.
Now a member of the Jacksonville Church of Christ in Alabama, he emphasizes the need for Christians to make contacts and create opportunities for Bible studies. That congregation has converted about a dozen people to Christ so far this year, he said.
Rob and Nicole Whitacre
"When my family is home … we're evangelizing," said Whitacre, who presents evangelism seminars at Churches of Christ across the nation about 40 weekends per year. "We're having people in our home or meeting with them for dinner somewhere or having a Bible study with them because that's the most important part of evangelism."
But he's frequently on the road, often joined by his wife, Nicole, and their two children, Hannah, 22, and Jared, 18.
Knocking on a door and expecting someone to show up at a gospel meeting that night might have worked in the 1960s.
Not anymore, Whitacre said.
Still, he believes connecting with neighbors — through door knocking or other means — can help build relationships and open the door for Bible studies.
"Too many believe we can solve our problems with programs and missions," he said. "There's no magic formula. It's Bible studies. It's worked since Acts 2."
PHOTO PROVIDED BY ROB AND NICOLE WHITACRE. Ronald Frieson, Hannah Whitacre, Gerry Whitacre and Marcy Lingle seek to save souls in Rome, Ga.
Part of the challenge, as Whitacre sees it, is convincing Christians that America can be saved.
He leads an annual mission trip to Jamaica and said it's much to easier to raise money for foreign works.
"Money just pours in," he said.
But he warns, "Our local churches are dying. If we don't change directions and do it soon, there won't be any funds to send (overseas) because we won't be here."
PHOTO BY BOBBY ROSS JR.
Julie Trujillo, her son Micah Trujillo and Ted Okolichany team up before knocking doors during the American Mission Campaign.
Too late for America?
Trujillo, the Florida church member, and her son Micah, 20, drove 700 miles to participate in the Georgia campaign.
"I do struggle with the feeling that it's too late for America," she said. "But after listening to (Whitacre), I'm definitely energized. God can do anything, and it does take people who are willing to go."
The Trujillos teamed with Ted Okolichany, a member of the St. Augustine Road Church of Christ in Valdosta, Ga., to knock doors in Rome — a town with three winding rivers, and seven hills, just like its European namesake.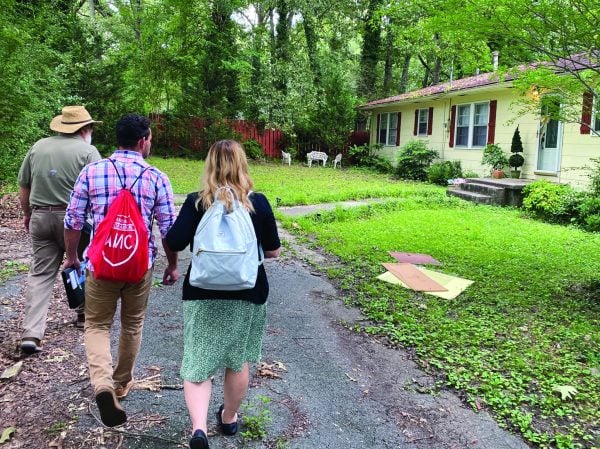 PHOTO BY BOBBY ROSS JR.
Ted Okolichany, Micah Trujillo and his mother, Julie Trujillo, approach a home during the American Mission Campain in Rome, Ga.
Like his teammates, Okolichany, 61, had made multiple mission trips to Latin America.
But he said he was just as eager to spread the Good News closer to home.
"I've been in some neighborhoods where dogs will get sicced on me, and I almost got hit by a rake to get out of a yard, and different things of that nature," he said of past experiences. "But I think in today's climate in America, people will be more receptive to somebody coming in and offering them what the savior of the world can give them."
Scott and Melissa Cain brought their three sons — Walker, 16; Tanner, 13; and Hunter, 12 — with them to Rome.
The entire family knocked doors.
"It went very well," Scott Cain, who preaches for the Mercedes Drive Church of Christ in Vance, Ala., said after the first day.
PHOTO BY BOBBY ROSS JR.
Chris Stephenson, an elder of the Bremen Church of Christ in Georgia, speaks to American Mission Campaign door-knocking teams before offering a prayer.
His wife added, "Anybody that we got to speak to was happy to speak to us."
Melissa Cain said the experience reminded her that evangelism at home is just as important as mission work abroad.
"I think a lot of times we want to send money overseas because that's the easy thing to do … instead of digging in and getting into the work at home where it starts," she said. "I often get in my own way in evangelism, and I wonder if it's like that for a lot of people.
"If we could just get out of our way and get to work and just be about the Father's business, we'd be better off."
BOBBY ROSS JR. is Editor-in-Chief of The Christian Chronicle. Reach him at bobby.ross@christianchronicle.org.
A time to reflect. No, seriously, reflect
Posted By: Tim Sherrill on Jan. 23, 2021
What we are hearing, observing and feeling in our world has been here long before the day you were born. It's just much more exposed today. Like a pile of wood soaked in lighter fluid, it just needed some spark to turn it into flames. We've had a lot of sparks the past several years. We've had many years of applying the fluid.
The good news coming out of this is we are wakening out of our neutrality or if we were already vibrant for the Kingdom, we are more so now. The first century church thrived under much more trying and contentious circumstances than we can even imagine. Persevere! There were no stimulus checks coming from Rome. Disciples often had to meet in secret as many do today.
Even with the passing of Steve's mom, Sally, whom we were all blessed to meet and be with the last several years of her life, we are reminded about the brevity of life and we are stopped to reflect on what matters most. With those we know, and love, their passing is an opportunity to remember, whether we believe it or not, we're just temporarily here. So, glorify God, make the most of everyday and give thanks in all circumstances. I believe when someone we know passes, especially a disciple, it's a great time for reflection.
To that extent, I keep thinking of Paul's second letter to Timothy where in 2:22-26, we have this instruction today:
Flee the evil desires of youth, and pursue righteousness, faith, love and peace, along with those who call on the Lord out of a pure heart. Don't have anything to do with stupid arguments, because you know they produce quarrels. And the Lord's servant must not quarrel; instead, he must be kind to everyone, able to teach, not resentful. Those who oppose him he must gently instruct, in the hope that God will grant them repentance leading them to a knowledge of the truth, and that they will come to their senses and escape from the trap of the devil, who has taken them captive to do his will.
There are so many different avenues where we can get caught up in the argumentative, anger, bitterness, indignation, pride, rage mentality that so pervade our airwaves, websites and articles. We can be drawn into the same "heart". Our hearts can become stones. Instead, what we need to be reminded of is our need to pursue righteousness, faith, love and peace... turn off the voices of the world, listen and follow the voice of God.
Like our theme scripture from last year from Philippians 1... "no matter what happens, conduct yourselves in a manner worthy of the gospel of Christ."
Reflect on that. Right now, reflect. Allow for some meditation. Be sober (objective, sound, real) in your self-assessment. Maybe ask a family member what kind of spirit they see coming out of you. Compare and contrast the argumentation of the world, our country, maybe even disciples today with the Timothy text above, and then overlay this with 1 Peter 2: 21-25:
To this you were called, because Christ suffered for you, leaving you an example, that you should follow in his steps. "He committed no sin, and no deceit was found in his mouth."
When they hurled their insults at him, he did not retaliate; when he suffered, he made no threats. Instead, he entrusted himself to him who judges justly. "He himself bore our sins" in his body on the cross, so that we might die to sins and live for righteousness; "by his wounds you have been healed." For "you were like sheep going astray," but now you have returned to the Shepherd and Overseer of your souls.
And of course, there are those powerful words of Jesus as he hung naked, beaten and despised on the cross, "Father, forgive them for they don't know what they are doing", Luke 23:34. Can you imagine the capacity to love that way?
Let me just throw two other thoughts at you as we move into, more than likely, more tumult. One is from Philippians, the other Galatians.
In Philippians 4:4-9, the setting is a problem of two people in the church having a hard time getting along, Paul encouraged the church this way:
Rejoice in the Lord always. I will say it again: Rejoice! Let your gentleness be evident to all. The Lord is near. Do not be anxious about anything, but in every situation, by prayer and petition, with thanksgiving, present your requests to God. And the peace of God, which transcends all understanding, will guard your hearts and your minds in Christ Jesus.
Finally, brothers and sisters, whatever is true, whatever is noble, whatever is right, whatever is pure, whatever is lovely, whatever is admirable—if anything is excellent or praiseworthy—think (meaning to use one's mind actively to form connected ideas about someone or something) about such things. Whatever you have learned or received or heard from me, or seen in me—put it into practice. And the God of peace will be with you.
What a great call today... let these be the kinds of things we are drawn to, that we listen to, that we pay attention to. Otherwise, we will fall into the trap of the devil and we will be taken captive to do his will... make no mistake about it, we will! And we can easily observe this...
How?... by inspecting the fruit our lives produce. Is our heart and mind and thus our attitude, conversations and conduct the fruits of the Spirit, or the polemics of the sinful nature...
Check out Galatians 5.
These scriptures are not just nice religious sayings. They are the rhythms of life for walking the way, the truth, the life. But we can't just read them. We have to live them; we have to train ourselves by them... "put it into practice". It's a whole different dance!
Psalm 19:14 NRSV-May these words of my mouth and this meditation of my heart be pleasing in your sight, Lord, my Rock and my Redeemer.
Want to add a comment? Click here to add your voice to the conversation